Cactus Kitsch

The Virtually Succulent

Glassware Collection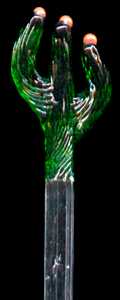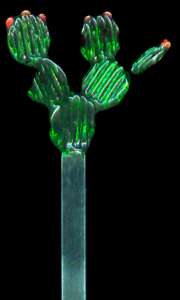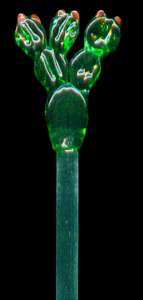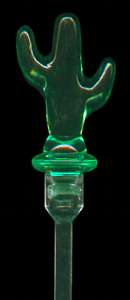 Above: A selection of glass cocktail stirrers topped with glass models of cacti. Left and 2nd left from Alpine in Texas, middle and mid-right from Arizona. No information is available about suppliers, but some were labelled as made in China. Cocktail stirrers are at about 1.5 times life size on a 96 dpi display and the glass stems have been truncated. Click on images for larger full length images.

View backlit

View backlit



Above left & middle: Examples of the glassblowers' art from Arizona, possibly made in Mexico.

Above right: A glass saguaro, decorated with glass "lights" designed for hanging as a lightcatcher. One could justifiably describe this item as a "Christmas cactus" ! From the Desert Botanic Garden, Phoenix, but labelled as "Made in China". About life size on a 96 dpi PC display.